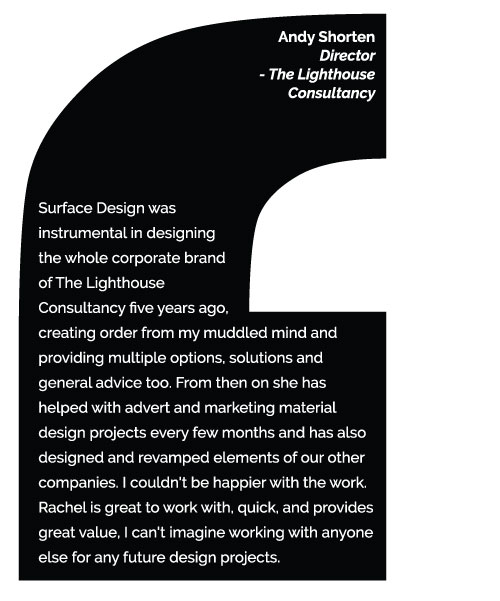 We have a few companies in Bali that have greatly benefited from the dedication of Surface Design which brings a steadfast approach to creative solutions. We just completed the groundwork for a new start up which had all five partners going in homicidal directions. The one unwavering and cool headed contributor amongst us was Rachel who adroitly balanced a number of graphic projects, including branding and refreshing the design of a website, providing the reassurance that we commissioned the right design house for the job. Rachel is a consummate professional who brings big city skills and professionalism to a small island.
Tom O'Brien
Director – Accommasia
Surface Design have completed at least 3 design projects for me including logos, interior artwork and branding concepts. Every time I have been impressed by the creativity and professionalism of the end product which has always been delivered on time. I cannot recommend the company enough. It is my default company for all creative product.
Antony Rhodes
Partner – Soul in a Bowl
Since 2009, BALINALE has professionally consulted with SurfaceDesign on all aspects of the festival's visual representation and print media communications. The company has produced for us over the years creative and engaging designs with the ability to work within our strict deadlines and without compromising on quality.
Deborah Gabinetti
Founder – Bali International Film Festival
It has been a pleasure to work with you and thanks for a friendly, personalised and professional service and for an excellent logo.
I would thoroughly recommend you to any business that needs advice and ideas on their artwork.
Pak Kadek Sudarsana
Director – Natan Hospitality Indonesia
Just a final email to thank you for the superb work you've done on our logo design. Responsive, clear and very imaginative: it's been a pleasure getting to know your work. The logo will be a really important statement of how the charity is changing and growing. Once again – many thanks!
Dave Shorten
Founder – Education Exchange – UK
CONTACT US